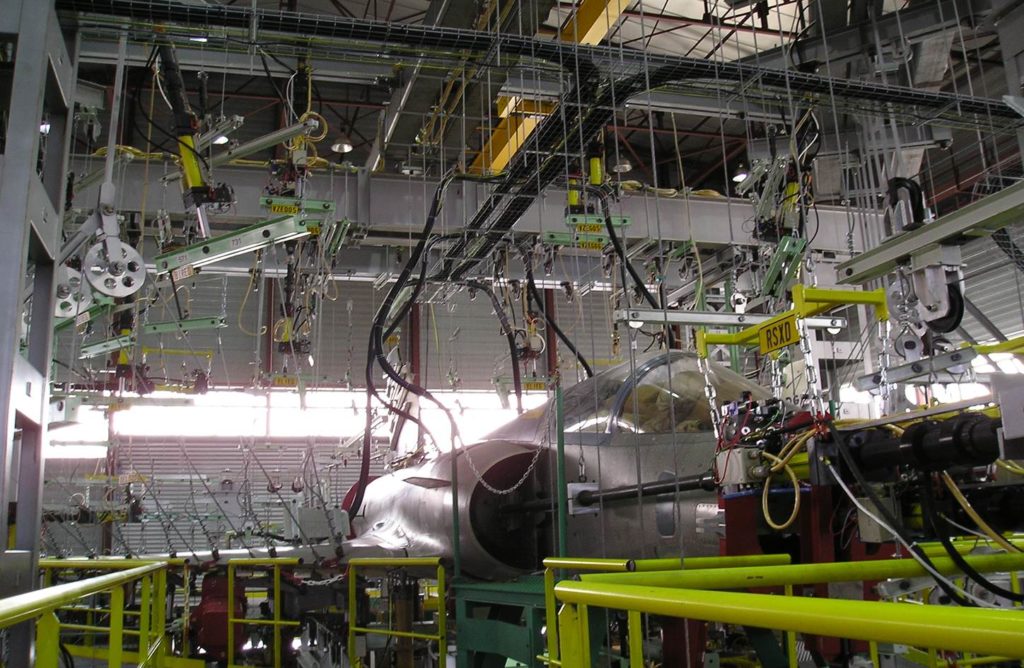 The full-scale test of complete aircraft require a sum of precautions well superior to mechanical component or equipment tests.
The full-scale test of complete aircraft require a sum of precautions well superior to mechanical component or equipment tests. Due to the high cost of an aircraft, whether it is a prototype or an existing one, and to the extremely tight schedules in the aeronautics industry, it is not permitted to miss a test, nor, moreover, to damage or destroy the airplane before the end of the test. The assembly necessary for this type of test requires the use of many dozen, if not many hundreds of hydraulically driven servo-actuators. In order to avoid any risk of deterioration of the structure, the actuators and their hydraulic environment must be shielded from all defaults or possible incidents. Thus, at the time of a piloting system failure, or a partial rupture of the structure under stress, the actuators assembly must return to an initial position in a continuous and homogenous manner in order to avoid introducing parasitical movements detrimental to the structure being tested. In order to obtain a material able to fit the requirements of this kind of test, QUIRI has developed a set of high performance actuators: the HiFi actuators.
Classical structure tests can be classified into two types: static load and dynamic fatigue tests. For each application, there is a specific actuator type: single ended piston rod type for static tests and double ended piston type for dynamic tests (the use of double ended piston rod actuators guarantees an identical volume in both chambers, allowing a perfect balance of the oil volume for an ideal use of the servo-valve.)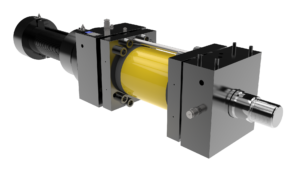 Single ended piston rod HiFi actuators
The single ended pistonrod type HiFi actuators, particularly intended for load control loops, must have the lowest friction possible (in order not to cause parasitical vibrations or non- respect of the adjustment prescriptions). The chambers must be perfectly sealed to allow a standstill of the actuator without flow, and to not exceed the hydraulic output when several hundred actuators are operating simultaneously on a test. These two constraints together do not allow the use of "fluid" guiding techniques, such as hydrodynamic or hydrostatic bearings, used in other applications. Otherwise, given the heights of the test structures, the actuators can reach extreme lengths, up to more than 6m stroke. The perfect adjustment of such actuators consequently required long test campaigns on seals and bearings systems to achieve a performance compromise. Thanks to the experience acquired in 35 years of practice in hydraulics and sealing technics, QUIRI could develop actuators respecting all of these characteristics.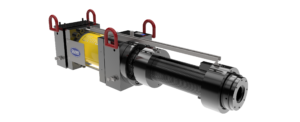 Double ended piston rod HiFi actuators
The double ended piston rod HiFi actuators, adapted to dynamic tests, show the friction characteristics almost identical to the single-piston rod actuators, while integrating supplementary mechanical functions. In order to assure a mechanical limitation of the stroke, these actuators integrate an adjustable mechanical system built into the rear piston rod, lined with the electronic monitoring contacts. These systems are able to absorb the full load produced by the actuator, thus permitting a guarantee of perfect safety during the test, avoiding any type of failure (piloting system, measuring cable breaks, hydraulic problems …)