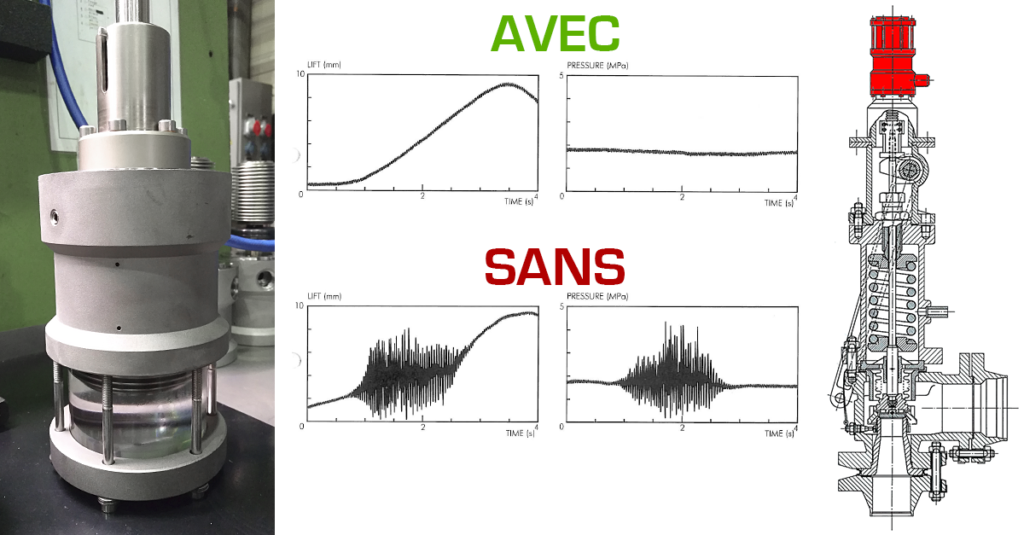 System designed for eliminating fluid vibrations in pipes during valves operations.
SIGNIFICANT IMPROVEMENT OF RELIABILITY
In liquid service, mechanical safety valve operation often produces high frequency flutter of the valve stem and disc chattering combined with considerable pulsations in the system pressure. These oscillations may lead to fatigue induced breaks of branch connections or pipe supports and to binding of the valve stem.
SIMPLE AND RELIABLE PRINCIPLE
This device is base on hydraulic damping and employs a single acting cylinder.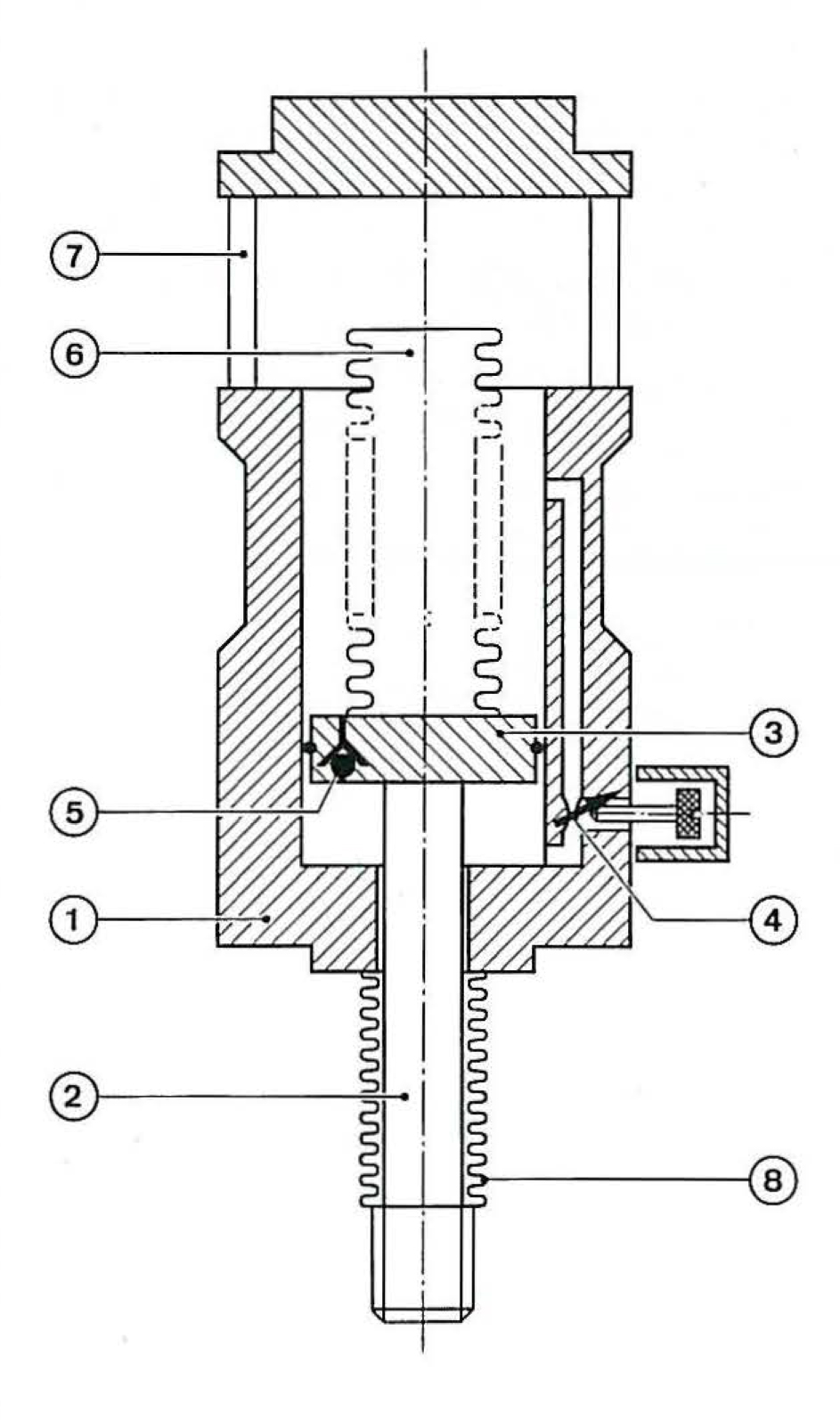 Composition
metal body (1) filled with hydraulic fluid,
movable piston (3) and integral rod (2) connected to the valve,
adjustable orifice (4) and check valve (5) separating the lower and upper chambers,
bellows (6) to accommodate changes in fluid volume,
volume control indicator (7),
seal bellows (8),
Principle
Stem displacement causes the fluid to flow from one chamber to another.
When the stem lifts the fluid flows through the orifice and the large cross-section check valve. Differential pressure between the two chambers is negligible and valve opening time is not affected.
When the safety valve closes the fluid flows through the orifice only and the stem motion is considerably dampened.
DESIGN WELL-ADAPTED FOR USE WITH MECHANICAL SAFETY VALVES
This device has been specially designed for spring-loaded safety valves and takes into account their particular operating modes.
Main characteristics
completely self-contained unit,
one-way damping on safety valve closure protecting seal faces by eliminating disc slamming whilst maintaining valve performance under over-pressure conditions,
temperature-independant hydraulic damping designed to increase with the force applied,
external damping adjustment with lockout,
negligible residual friction due to the use of oil as hydraulic fluid and of bellows as the dynamic seal systems,
accomodation of changes in fluid volume resulting from stem displacement and temperature variations,
reduced size ans fitting to the top of the valve mean that this device can be adapted to existing equipment without requiring system depressurization,
material compatible with the most severe ambient conditions in nuclear plants,
maintenance free due in particular to the fact the device is completely self-contained unit,
the abscence of a free fluid level means that the device can be shipped and installated in any position,
the fitting on every type of spring loaded safety valve, up to a set pressure of 20 MPa.
QUALIFICATION
The anti-chattering device was sized by running numerical simulations using the Athis computer program. This code which describes hydraulic transients is employed by Framatome to size NSSS components. Comprehensive tests were carried out on CEA/DRE'S loop Claudia at Caradache. These tests on safety valves equiped with our device validated the final designed solution.
RÉFÉRENCES
EDF order to fit out the auxiliary system safety valves of all French 1400 MW (N4) nuclear power plants with these devices.